Game: Alphabear
By: Spry Fox [Facebook, Twitter]
Links: official site, Google Play, iTunes Appstore
Added: July 17th, 2015
July 18th, 2015
Hey there!
Wow, it's been awhile since I've come on to this WordPress!! How are you all doing? I trust this post finds you well!! Meanwhile, I've had some time to catch up with my Goodreads reading challenge of the year [yep, those 50 books aren't gonna read themselves, haha!!]!! Anyways, for this 24th of the month post, I've decided to write about one of Spry Fox's newest games: Alphabear.
Skip this part because it's basically just backstory. 
I have come to know Spry Fox via a very fun game that they made available for iGoogle or Google + games – I can't for my life recall where it was that I played it on, but it was the game: Triple Town (I'm surprised I haven't written an entry in this blog about that one either, or have I? My memory is failing me, but according to my trusty search bar, I haven't…!!???) [here's a link to its Facebook page, in case you'd like to see]. I used to play that game religiously every day [of course that was back when it was available online and not when we actually had to download the app to our mobile devices, I think it was even available on Facebook, too!!] and record my best scores via screenshots.
---
#alphabear http://t.co/gM4gAy1fLj pic.twitter.com/ptZ1N3UUkN

— XxPonytaorponyboyxX (@PonyboyorPonyta) July 18, 2015
The game is basically a word game, a bit like scrabble, but not at all like scrabble, haha.
You need to form words using the letters that are available on your board. However, you need to be careful, because every letter have an "expiration" so you need to use those letters before the timer ends.
There are two "modes", a 'timed' mode, which takes out… 50 of your "energy/HONEY" [Honey is like the MP or just 'energy'], and a regular mode which takes 70 HONEY. Your maximum (as I am aware of anyway) is 120 honey, I think? However, don't worry at all! You can do up to three things in order to get more HONEY. Watch a video, pay real life money or pay in-game money. I would advise that you only watch the video, because you'll be needing the coins in order to do some of the special events.
How do you gain more coins? You gain them by completing the boards, of course! It's not always easy to gain coins, I don't know how they distribute them, though, but it's still really fun to play (not fun to wait though).
This game is highly dependent on the Internet, though, so if you're looking to play a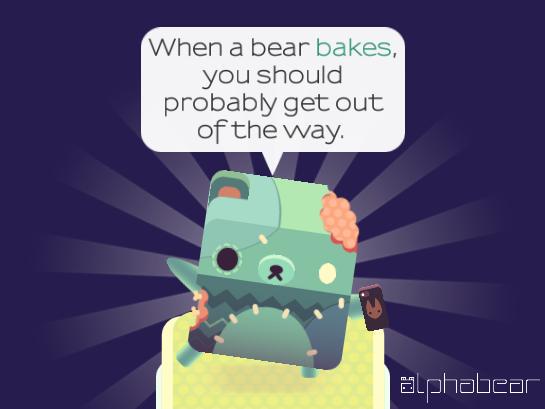 game while in the subway or in the bus (and you don't have a data plan (like me)) you probably will have to look for another game. It's also not dependent on how many friends you have, they can't even help you have more honey or have points. I guess it's so dependent because, once you've completed your game, a bear will show up and say a 'quote' using one or many of the words that you've created in the game [as you can see, in this one game, I had made the word "bakes"]. Then, you can share these quotes (plus the images) on either Twitter or on Facebook.
This game was even featured on JustKiddingPlay!! Check out their video!
---
Anyways,
that's all for today!
I really have to get back in the game!
See you all next time!
༼ ༎ຶ ෴ ༎ຶ༽  – Ponyout! –  ༼ ༎ຶ ෴ ༎ຶ༽