Tags
Bayleef, fear for sale, Game, games, Hiba, hidden object, hidden objects, Mewtwo, Munchlax, Mystery Case Files, Nanowrimo, strategies, strategy
Title: Fear for Sale: City of the Past
By: Elefun games [Facebook]
Difficulty: Hard
Started: October 30th, 2015
Finished: October 31rst, 2015
Duration: ~ 4 hours
Played with: Bayleef, Munchlax and Mewtwo
Rated: 8/10
Particularity: You can play out of fullscreen mode with your laptop
October 31rst, 2015
HAPPY HALLOWEEN!!
How's everyone doing? So, for our FridayNightgames, Mewtwo, Munchlax, Bayleef and I have been playing Horror-like or rather Halloween-like games for the whole month of October! I think that we'll be playing the new Mystery Case Files [I've played plenty of that series] next week, too, and I'm looking forward to it! Without further ado, let's talk about this game; there may be spoilers if you care about the story!
I think this was my first game of the Fear for Sale series, but it was still quite good. I would not be able to tell you whether or not there were any callbacks, however. Fear for sale – in this game anyway – is a magazine from which Emma Roberts (our main character – I wonder if it's also her in the other Fear for Sale games) writes her articles in [who would name their magazine about fear…? Is it only in the time of Halloween? I have to play the other games to tell you, but I have no time… I have to start preparing for Nanowrimo as soon as possible]. The story by itself was pretty nice, I guess? There weren't much elements for scare: I hardly screamed, but it was quite nice, the way they wrapped things up in the end. As for the bonus story, well we find out what really happened to Amelia, and I also thought that was a nice resolution, even though I could have lived without it, it certainly tied everything together nicely, even though that sheriff was both completely useless and weird – because he changed his mind so quickly about how dangerous Amelia truly was.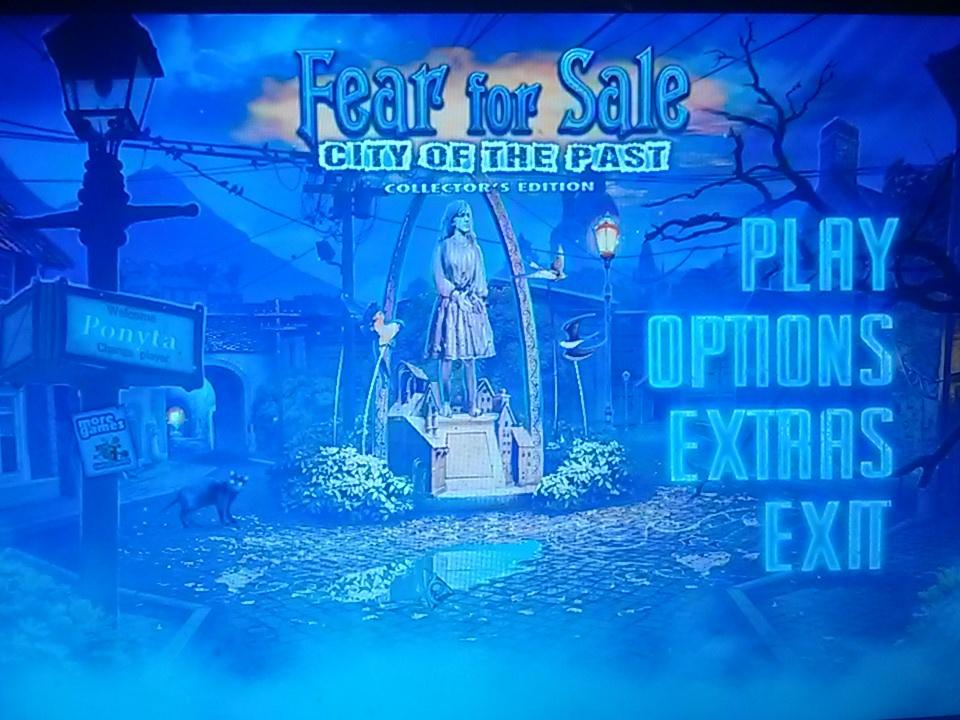 The visual effects were very impressive! I really liked that you could interact with so many things: the cupcakes, candies and tea/coffee that you could drink in the beginning, for example, or the eyes that moved or flashed when you clicked on it. I wasted a lot of time just clicking on many things, thinking they'd be relevant (they weren't, but the details were very well done and impressive). The sound effects were pretty nice, but my game was a bit laggy – I blame Hiba, a little bit, for that, and because of that, I wouldn't be able to say if it had the same impact. Additionally, if you spent too much time in the game – I think? – the music would just… randomly stop? I think? That was a bit less fun, but otherwise, I really liked the soundtrack. Whenever I could hear it.
@PonyboyorPonyta it wasn't so bad actually!!! #achievements pic.twitter.com/dS1Ofum1dF

— XxPonytaorponyboyxX (@PonyboyorPonyta) October 31, 2015
//platform.twitter.com/widgets.js
As for the achievements, well… I guess I got so used to playing extras with Souvenir Rooms, and whatnots… There are collectibles – collections of different objects – I was missing one collection, and that's… quite upsetting – and there are morphing objects in all of the game's locations, I think. As you can see, I worked very diligently in order to get every morphing objects, but it was quite difficult.
When Hidden Object boards were too difficult – I didn't particularly find them to be that difficult though, mostly, I guess, because whenever I was in the stump, Mewtwo and/or Munchlax would come to my rescue – you could play a jigsaw instead, which were much easier apparently – it looked like it from the way I saw it. The Hidden Object Boards were varied and interactive, which I liked. It was the first time, too, that someone – in this case, pigeons [in the Bonus Chapter] – "damaged" a vocabulary list that we would need to 'repair' in order to start the Hidden Object Board. Plus points for creativity! Meanwhile, the puzzles were equally varied [there was one at the beginning that I have a complaint about: where were the obstacles in the maze, that made the statuette's movements completely randomized, because we didn't know where she would move?], and didn't present much of a difference from other games that we've previously played. I do love algebra-based games, mostly because it shows to me that I can still work on my algebra skills. Hahaha, who says Algebra is useless in the future?!
---
Overall, very nice game!
I'll look forward to another Fear For Sale, then!
Until next week, take good care of yourselves!
Have a great Halloween (in advance/late).
Ponyta's out!